Hope everyone is enjoying and/or taking gently, the transition into Autumn. 
I have a few work things below that I'd like to share over the coming weeks. I'm not at events so much at the moment but would always love a cup of tea. Get in touch for a chat, skype, whatsapp voice note or a nice walk?
Saved

 by Project O // 21st September 2018 – 4th January 2019
New Wing, Somerset House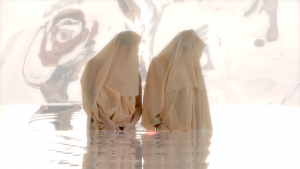 Jamila Johnson-Small and I spent the summer working on our first film work together. Jack Barraclough provided the animation and edit with camera by Katarzyna and sound by Verity Susman. 
It was the first in a series of commissions by Somerset House exploring their connection to the Royal Navy. From this point of departure, we placed our bodies amidst a landscape that is both real and constructed where a sense of ancient fiction unfolds; pressing up against questions of choice, inevitability, movement, defiance and surrender that arise in relation to thoughts about water and human movement/the movement of humans, enforced and chosen. Our bodies pass through various movement states, lingering in gaps between the epic and the personal, always shifting scale.
CONTOUR // 6th October 2018, 7-9pm (£10)
LSO St Luke's Church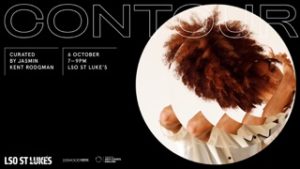 This saturday, composer-curator Jasmin Rodgman presents a night where music meets dance, film and electronics in an evening exploring movement: the body, sound and geography. I have been working with Jasmin on the night's final work CONTOUR, creating a movement, text and film world for her new composition of the same title. 
words collect under my soft palate, lips shut, soundless bubbling

 // 6th October 2018, 12-10pm (Pay What You Decide)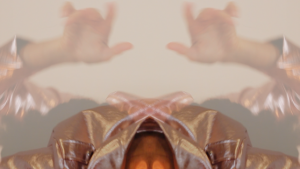 My short film exploring ideas of soft resistance and gentle noise amidst silencing will be shown as part of Emergency 2018 presented by Word of Warning, STUN and Z-arts. I am thrilled to be part of such an exciting line-up of artists. 
Making Contact: Reflections and resonances with "Imagined Touch" // On Time: a SPILL Reader
I was delighted that editor Diana Damian commissioned me to write an essay in a response to the installation Imagined Touch by Jodee Mundy Collaborations that will be at SPILL Festival this year. I wrote an article that navigates my own experiences of touch and the enquiries of my creative practice, within and around the themes in Jodee's work. The reader features phenomenal artists and writers and will be a companion to the performance works within the festival.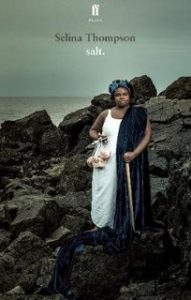 Last year, I wrote a review for Selina's show salt. and excitingly, Selina has chosen to include it as a foreword for her incredible text published by Faber&Faber! Yay!!
Open Forum: Future Facing  // 9th October 2018, 7.30pm (£7, £5 concessions)
Siobhan Davies Studios
As part of this year's Dance Umbrella, Dr Cecilia Wee will chair a group discussion about the future of dance.The evening will be a chance to discuss dreams and tactics for thriving and how to shape the future of independent dance creation together. Siobhan Davies, Paul Hughes, Shobana Jeyasingh and myself will be offering short provocations within the discussion. Screensaver Series by Janine Harrington will be performed before and after the talk.
Love Alexandrina xx