…life spills slowly
across cell edges
weeping open…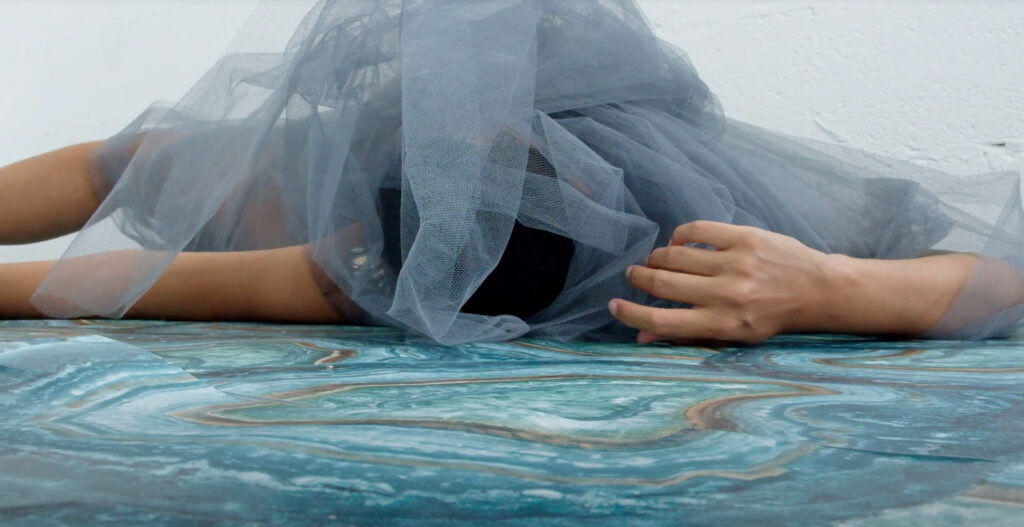 Maelstrom Under Glass, calls upon several strands of intimacy as pathways to trauma-healing to offer up dynamic spaces of repair. Alexandrina's vivid, multidisciplinary layers of movement, bio-mythographical texts and collage speak to retrieving oneself from sites of harm. These layerings evoke a reclaiming of interior texture; evoking re-embodiment after prolonged dissociation, inner storms, intersectional subjectivity as sites of marbling, and the complicated shine of a body meeting itself once more.
Of the work, Alexandrina says:
Continuing my practice of finding embodied agency in performance environments, yet in contrast to my previous film works where multiplicity was fought for through processes of blurring; to both evade capture and challenge the gazes of white supremacist ableism, Maelstrom seeks to amplify and value that which is. Within my own fabric, my body/bodies are held as defined and visible. I embellish my body-mind-spirit, treasuring multiplicity within processes of returning to intimacy."
Maelstrom Under Glass is the first film project of newly formed company Yewande 103 led by choreographer and writer Alexandrina Hemsley.
Contains nudity.
Below is an excerpt of the work. Please get in touch for the full length piece (Duration: 12 minutes).
A Dadafest commission by Yewande 103
Choreographed and performed by Alexandrina Hemsley
Text: Alexandrina Hemsley
Filming: Alexandrina Hemsley with support from David Archer and Katarzyna Perlak
Editing: Katarzyna Perlak
Sound Design: Rebekah Ubuntu
Production: Nancy May Roberts
BSL: Dionne Thomas
Captioning: Katarzyna Perlak and David Archer
Technical and Production support: Dadafest